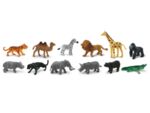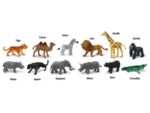 Wild Animals Collection
$14.00
Standard products are items that are manufactured by Crystal Forge Games and stocked on a regular basis.
Vendor products are items we sell that are produced by 3rd-party companies.
Lions and tigers and bears, oh my! Be ready for your next druid shapeshift or random encounter with this collection of wild animals. With common creatures that can be found in several biomes, you'll always have something ready to pit against your players. And if you're a druid, shapeshift into a stealthy jaguar, a deadly crocodile, or an unstoppable rhino.
While not created specifically for gaming, or to miniature gaming scale, these figures make for an inexpensive way to add several wild animals to your gaming table.
The Wild Animals TOOB® contains the following 12 figures:
1x Lion
1x Tiger
1x Jaguar
1x Black Bear
1x Rhinoceros
1x Elephant
1x Hippopotamus
1x Crocodile
1x Gorilla
1x Zebra
1x Giraffe
1x Camel
TOOB® is a registered trademark of Safari LTD.
---
We are proud to carry official Safari Ltd brand products.


There are no reviews for this product.