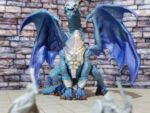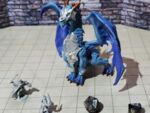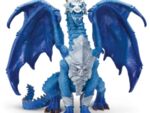 Guardian Dragon
$21.00
Standard products are items that are manufactured by Crystal Forge Games and stocked on a regular basis.
Vendor products are items we sell that are produced by 3rd-party companies.
Out of Stock
This product is currently out of stock, but we expect to have more available soon.
Sitting proudly on a rocky bluff above the dwarven citadel, the guardian dragon shines resplendently in dwarven forged armor. Her family has held this post for generations, serving as allies to the dwarves and protectors for the high mountain valley.
This dragon stands proudly in its armor, and can easily be used as a guardian on the side of good, or as an already dangerous foe protecting their vital areas. Its chest armor is designed with a vaguely dwarven motif, begging the question of how it was acquired.
In 28mm scale, this dragon stands roughly 25 feet tall, with a furled wingspan of 35 feet. The size is roughly accurate for a young adult or a smaller adult dragon. This hand-painted figure is 7" wide and stands 5" tall.
---
We are proud to carry official Safari Ltd brand products.


There are no reviews for this product.