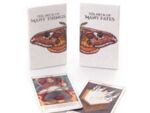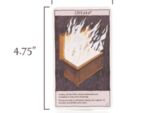 Decks Of Many Things & Many Fates
$15.00
Standard products are items that are manufactured by Crystal Forge Games and stocked on a regular basis.
Vendor products are items we sell that are produced by 3rd-party companies.
Out of Stock
This product is currently out of stock, but we expect to have more available soon.
Two Decks. Infinite Fates.
All dungeon masters, veteran and novice alike, have heard the legends of the Deck of Many Things. A treasured artifact that can infuse any campaign with danger, wonder, and delight. But look here: another deck has emerged from behind the veil of mystery. A deck equal in power, yet bursting with epic confrontations and sinister secrets. The Deck of Many Fates.
Comprised of two decks totaling 49 jumbo-size tarot cards, The Deck of Many Things and the Deck of Many Fates are the perfect accessories for your adventuring party. Our finest sages have also included a guide on the use of these cards, as irresponsible operation may lead to disfigurement, death, and worse.
A Beloved Classic
The Deck of Many Things has been an RPG mainstay for over 40 years. It is an artifact of immense power and extreme chaos. Twenty-two cards each contain strange, potent, and often game-changing effects. Perhaps you shall draw the fabled Flame card and with it the enmity of a powerful nemesis. Or, just as likely, you may draw the Gem card, blessing you with immense wealth.
A New Artifact
Unlike its relative, the Deck of Many Fates is a relatively new artifact, unknown to most. It contains a staggering twenty-seven cards, each with a new power, curse, or opportunity. The Deck of Many Fates may be used on its own as an independent deck or shuffled together with the Deck of Many Things to create a 49 card hybrid of magic, terror, and destiny.
The Deck of Many Things and the Deck of Many Fates includes 49 jumbo tarot cards, sized at 120mm x 70mm (~4.75" x 2.75") in two hand-illustrated tuck boxes, and helpful instructions for use and play.
---
We are proud to carry official Stratagem brand products.


There are no reviews for this product.