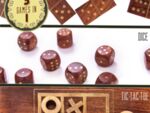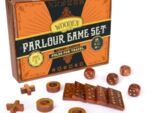 3-In-1 Wooden Parlor Game Set
$40.00
Standard products are items that are manufactured by Crystal Forge Games and stocked on a regular basis.
Vendor products are items we sell that are produced by 3rd-party companies.
Out of Stock
This product is currently out of stock, but we expect to have more available soon.
The Perfect Parlor Trio
Parlor games came onto the scene during the 19th century. They were some of the first indoor leisure games involving logic and word-play and have stood the test of time. Step into the past with these Tic Tac Toe, Dominoes, and Dice games made from solid cuts of wood. Our set is built to endure as long as these classics.
Each game features a premium, laser-engraved travel and storage chest with a Tic Tac Toe board on the top side and an ancient Egyptian motif on the bottom. This upscale set makes for the perfect addition to coffee tables and living room tables alike, ready for family and friend game nights whenever it's needed.
Why You'll Love It:
This premium parlor game set makes for a great gift for board game players of all ages. The wood travel and storage chest protects pieces in one lightweight, high-quality box. You get the classic Tic-Tac-Toe game, its origin tracing back to ancient Egypt, with 9 wooden tokens with gold-colored tops. This set includes 28 wooden domino tiles with gold-colored pips for playing the classic logic game of Dominoes. The 10 golden pip, wooden dice can be used in many games such as Yahtzee, Bunco, Liar's Dice, Shut the Box, Mexico, Farkle, and more!
---
We are proud to carry official Brybelly brand products.


There are no reviews for this product.